Cerita Wiken 8 dan 9 Maret 2019
Hari Jumat siang, kami ngajak Malikah dan Fadhil makan siang di resto Zen Avenue Mall. Kami pesen nasi goreng buat Azka, nasi chicken katsu buat Fadhil, fish n chip buat the girls, nasi rendang dan sushi buat dimakan rame-rame. Minumannya anak-anak pilih sama semua, apalagi klo bukan oreo milkshake.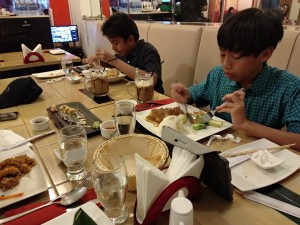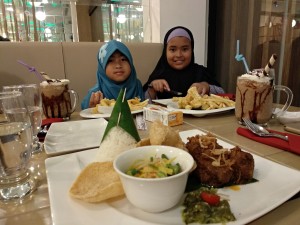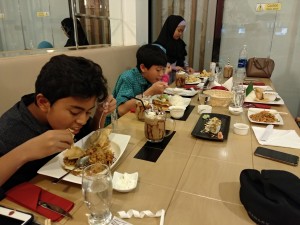 seabis makan, lanjut ke borders, the girls pengen beli putty lagi. Lalu lanjut ke toko games beli CD games. Cuma itu aja sih, trus kami pulang ke rumah. Anak-anak sempet main bentar di rumah, lalu lanjut pergi mengaji bareng-bareng. Selese ngaji, pergi ke tukang cukur, Azka mau potong rambut.
Hari Sabtu pagi, paksuami udah pergi jam 6 pagi janjian ama temen-temennya lari bareng. Sementara aku sama anak-anak diajakin uminya Malikah mau main Kayak dan piknik di pdorc bareng keluarga lainnya. Berangkat dari rumah jam 8-an pagi. Main sampe jam 10 lalu pulang diantar uminya Malikah.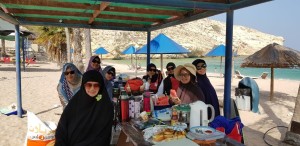 Siangnya abis dzuhur, janjian mau main rame-rame di trampo Extreme. Anak-anak asyik main, emak-emak asyik ngobrol sambil nungguin para bocah selese main 2 jam hihi….Pulang dari trampo kami cusss pulang, sementara Alisha kepengen main ke rumah Malikah.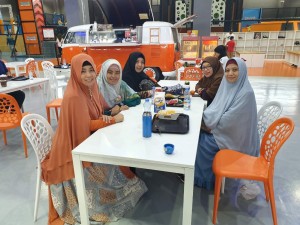 emak-emak penunggu anak-anak main
Malamnya, berubung ga ada makanan di rumah dan sekalian mau jemput Alisha yang lagi main di rumah Malikah, kita putusin makan di Chinese Palace. Wiken yang padat tapi menyenangkan 😉