Sarapan di Nana's
Wiken ceria, di suatu sabtu pagi yang udaranya masih lumayan dingin, kami janjian sama keluarganya Malikah untuk sarapan bareng di salah satu resto deket pantai. Para bapak olahraga pagi dulu jogging di pinggir pantai, the girls main di playground, the boys main catur dari gadget, para emak asyik ngobrol.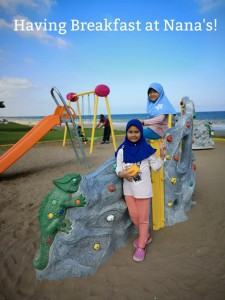 Setelah itu kami menuju resto Nana's. Ini pertama kalinya Azka dan Alisha nyoba makan di Nana's. Biasanya klo abis main di Pantai Shatti, sarapannya ke the Crepes ato ke D' Arcys.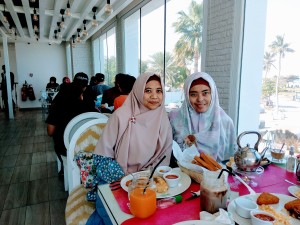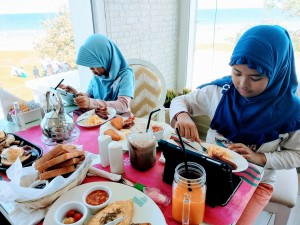 Asyik juga sambal makan liat view di luar jendela, masya Allah…pantai di Oman ini indah dan bersih banget, serasa kami lagi liburan di salah satu resort manalah gitu.